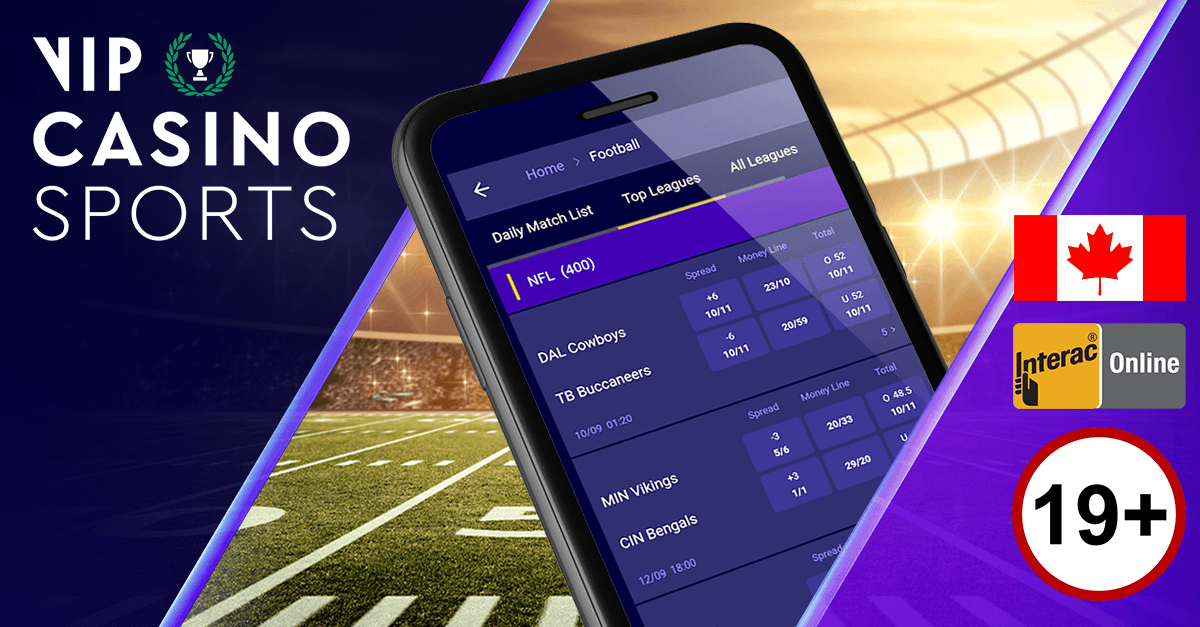 College Football Betting in Canada
College football is a billion-dollar industry, and perhaps the only billion-dollar industry in the US that isn't really understood outside of those fifty states. Here at VIPCasino, we have a great range of college football betting markets for all the big NCAA games.
NCAA has been in the news far more often than any of the sports it governs and perhaps that leads the question – just how big can the sport actually be if it can't garner more attention than its administrative top table?
Well, let me talk you through it.
Football, at its highest level, is brand-specific. The thing about attraction and attention through branding is that you don't have a long-term buy-in, particularly in the US, where teams' fanbases will fluctuate massively based on their immediate form.
You could make the case that the only globally-relevant names in the NFL are the Packers and the Cowboys – largely due to their legacies built up through success and organic associations with certain-collared demographics.
But there is safer, more consistent buy-in away from all the PR campaigns and top-table idealisms. It grows among the corn rows in Iowa; shoots out of the bayous in Louisiana – and, perhaps more importantly – it doesn't not linger in may places.
Perhaps it's not dredged from the ocean floor in Maine?
More About College Football
College football is local, it's loyal and because of a combination of those two things – it's forever. Collegiate programmes may exist on different stratospheres of course, even foregoing Division II and III schools.
The thing is, there's a chance a small commune that hosts a small programme can overturn ranked opponents. It features the absolute pinnacle of sport – how it's you against them – something that's ultimately missing at pro level, where name recognition and star power reign supreme.
And with so many games on which to focus, it's only natural that thousands will know more than those they're betting with.
If you believe that sport is local, then you better believe that the legalization of sportsbooks in states will ensure that gambling on collegiate sports is local too.
Welcome to America.
But that does very little for the average onlooker in Canada, for example. In this piece, I will suggest ways in which you can best interact, engage with and ultimately profit from your cousins south of the border.
They have more intel and warmer weather, but given everything is digital these days, the one thing you definitely don't have is an excuse.
Here, I will recommend tips on how to get ahead of the odds-setters, the best bets to avoid and preview some the big bowl games coming thick and fast. You can keep up to date with all the latest news and tips from the world of college football here on VIPCasino.ca.
Observe
There is absolutely no reason why, without having obtained sufficient knowledge, that you would begin to bet on something.
Spend time noting which teams have gotten high recruitment scores from independent reviewers. For example, Jackson State are hardly a household name and yet landed the most sought-after player in the nation.
Of course their lines will adjust accordingly due to how high-profile the player in question was, but there are historically weak programmes now landing bigger stars simply because they can make their own money through endorsements.
This is opportunity.
Play The Lines, Not The Game
Too often people get caught up in results. You can win a bit before a ball is kicked due to handicapping and you need to be aware of this.
If a line is set and it waivers from one extreme to the other, you can trade your positions on these outcomes when you see trends.
Generally speaking, big teams' spreads are smaller early in the week and this is when you should bet the dogs. As kickoff gets closer, parlays and multiples usually entail bettors latching onto the favourites.
By the time gametime comes around, the line is very different from it opened up six days previously.
Limit Your Exposure
If a bookmaker is openly suggesting they don't have widespread intel on every single team at the collegiate level, why can't you?
What I suggest is you focus your attention on a few programmes from recruitment drive right through to season's end and keep your eye on betting trends.
Most books will take lines from Vegas anyway, but some set their own spreads and you'll be able to aggregate where their volume goes and when.
While everyone half-heartedly bets lines blind, you can take notes and understand when the spreads shift when you hone in just a handful of squads.
Peach Bowl
This is two teams with very different identities – one has a quarterback who looks toolsy and can make most throws, while the other is attritional.
I generally find that non-generational QBs don't win bowl games by themselves and ultimately make mistakes – leading balanced teams to win on the big occasions. I would side with Michigan State here, as they look to control clock with Kenneth Walker.
Rose Bowl
Ohio State are having a down year, and you know the programme has history when they're still ranked #6 and have one of the best players in college football under center.
Utah are getting the bowl game they deserve for consistent, old-school defense – led by the impeccable Devin Lloyd who will ultimately go on to be a top-ten pick this year.
But his coverage will be limited to tight ends and checkdowns in the passing game. Utah don't have enough to contend with the skill players on the perimeter, and coaching will ultimately win out. Take the Buckeyes -6.5.
Cotton Bowl
I don't know what it is with Alabama bettors, but for some reason, just because Cinci are the story of the season, everyone is ignoring what's plain in front of their face:
Alabama will blow out anyone in this bracket, and the reason this spread isn't bigger is due to sentiment and people wanting to believe that the biggest shock since this format was introduced will take place here.
I will spare you running the analytics; I will save you trouble of second-guessing yourself and I will tell you very simply – Roll Tide. Alabama are better in every single facet of this game other than the PR aspect.
Follow @VIPCasino_CA on Twitter to stay up to date with latest tips, news and offers from Canada's Best Online Casino!