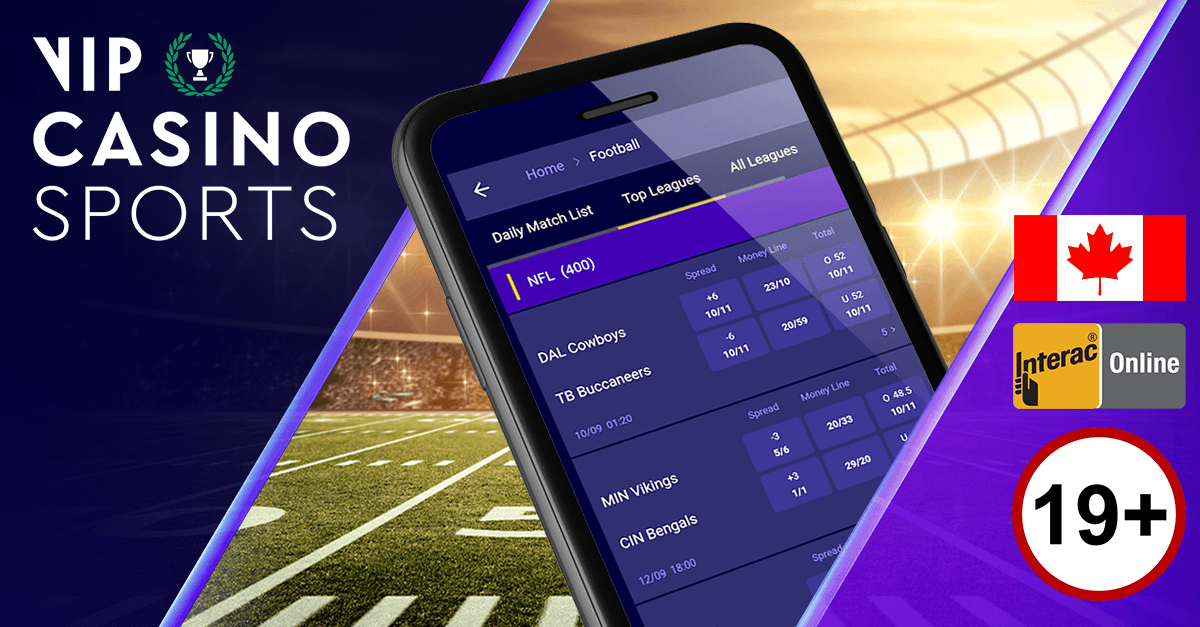 How Do College Football Lines & Spreads Work?
College football is something that's truly only understood in North America. Even the premise of collegiate athletes being as hyped, or, in recent times, as endorsed as they are, is a foreign concept.
But some have their retirement funds secured by the time they even find out their final GPA.
If you think of Tim Tebow, or maybe Cam Newton and Baker Mayfield, the cult of personality that can be built up for players by the time draft night comes around can be so large, that it alters our perception of where the tag professional begins and ends.
This is true in corporate world. This is true in fandom circles – and it's certainly true in betting heats. One aspect of the game that is always popular with VIPCasino users is understanding the college football betting lines.
While the NFL is the most well-known league on planet earth for its brand, the one thing that many don't realize is it doesn't fully gain buy-in from the entire country.
For example, some areas in the US prefer collegiate sports to actual pro teams. Think of an area like Alabama for example. Even if an ownership decided they wanted to move a franchise to Mobile or Birmingham, there's no way it could ever compete with the magnitude and identity of the Crimson Tide.
So much so that that university feels comfortable being based in a place the size of Tuscaloosa. It will indefinitely exist because of the legacy it has built up in its sporting programmes.
Now, that might be difficult to understand for a lot of people outside of the United States, Mexico and Canada – but look at it like this.
Every year, an NFL team generally has one first-round pick in the draft. Alabama had six in 2021. The legacy and impact of that college on the NFL is larger player-wise than any single franchise could hope to imprint.
That's the scale of the beast we're dealing with here.
In betting circles, there's a few reasons why collegiate football is preferred to its pro counterpart. So, if this piece is called How Do College Football Lines Work?, then let me offer you an answer in two different contexts.
How do they work in terms of the creation and flow, and how do they work in terms of attraction and volume.
Conception
The idea behind college lines is dangerous for line-setters for a number of reasons, and it varies by time of year.
Take a team who have been hampered by NFL recruitment, or a unit that were largely made up of seniors the previous year.
At the beginning of a season, it's very tough to gauge just which teams are going to be better than the other – let alone by how many points they'd hold an advantage on opening week.
A lot of this is dependent on widely-available factors like home advantage, weather but also historical trends and coaching consistency. Nobody is going to make Alabama a dog against Louisiana State, no matter how many times they face off.
Flow
But it's the intel from local bettors and those in the know that largely set these lines – and the movement from one point tally to another is often the narrative, rather than any pre-game focus on things like personnel or records.
It's constantly pre-game betting lines that set the scene for how close games are going to be, because intel generally leaks into line placement.
It truly is a monster of its own.
Attraction
Why do people actually enjoy them, though? Well, a lot of it is to do with the sheer amount of games that are on. You will only ever have a maximum of 16 games in the NFL on a given day, and that never even happens.
The number of CFB games eclipses that with relative ease. That invites parlay plays, a full-day immersion and even a chance to bet the movement rather than the outcome if you wanted to trade value across multiple markets.
One other factor that lots of people forget is that the NFL lines are generally grounded in good knowledge. There's too many insiders working in the league for any exclusive IQ to not be in the public domain.
Lines generally set and pending any major unexpected injury or weather condition, they stay within a point or so.
That's not the same in college football – Division I or Division III.
There is quantifiable proof that those connected to the smaller teams know more than line-setters and traders. That excites bettors because they feel as though they can gain the upper hand.
The only thing in betting that exceeds the joy of winning money is the prospect of being more correct than anointed experts – and that generally regresses to the mean in the major leagues. If you're sharp in the college game, not only will you stand a better chance of being up at the end of a year, but you'll begin to see your wagers actively affect lines.
Volume
Remember, 28 of the 50 states don't have an NFL team. 32 teams are represented by just 22 states. In college football, only nine states don't possess an FBS programme.
Those are Alaska, Delaware, Maine, Montana, New Hampshire, North Dakota, Rhode Island, South Dakota and Vermont.
And those states are fairly sparsely populated, too.
Remember that, when you live in the US, you're always actively aware of the big games ongoing at the weekend.
So not only do college football lines interest a lot of sharp bettors, it also brings in casual fans who consume the lines as expectation – and the primary method of showing your disapproval of a narrative or support of a dog is by taking the line.
While the NFL excludes more than it includes, college football is the total opposite. It's engrained in communities all over the country across various demographics and betting interest levels.
Therefore betting lines for sporting events that are hardly even acknowledged outside of North America may actually be the most all-encompassing betting heats on the planet, community by community and demographic by demographic.
Follow @VIPCasino_CA on Twitter to stay up to date with latest tips, news and offers from Canada's Best Online Casino!
We have plenty more College Football tips and news here on VIPCasino.