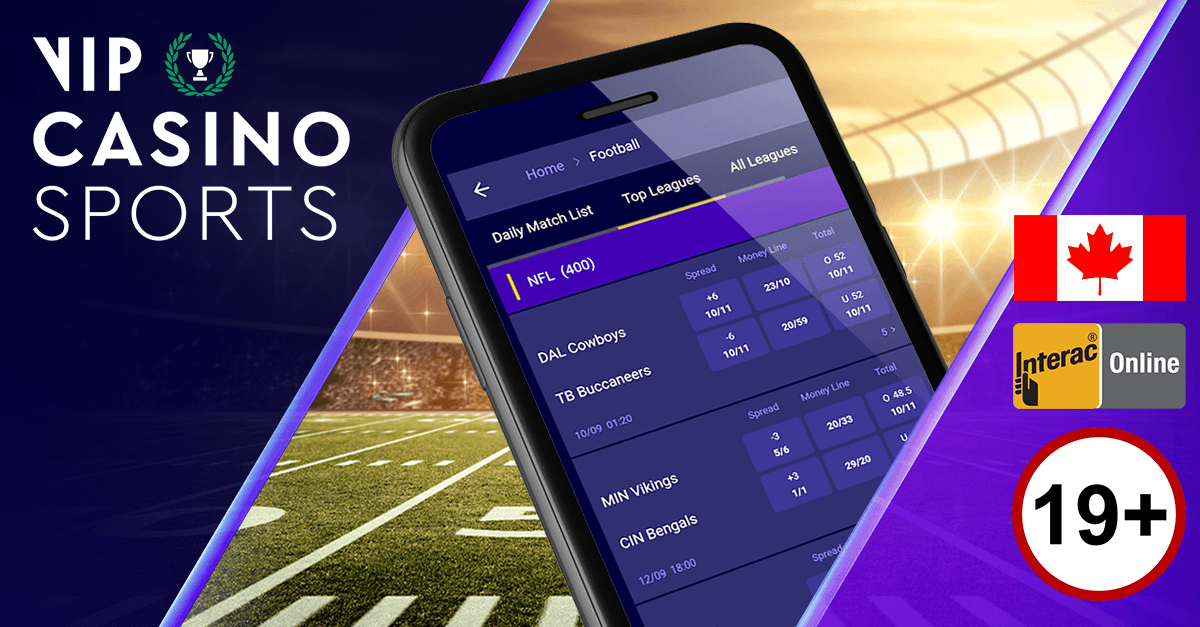 NFL Monday Night Football Betting
The National Football League is no stranger to elevating games. Monday Night Football is a prime slot for some of the biggest games on the schedule and we have all the betting markets available every week.
Their primetime slots are the first glance everyone takes at the schedule upon release and they're frequently seen by millions around the world.
For teams, they see it as a chance to make a statement to the remainder of the league and change the media narrative. For players, it's their chance to increase their salary demands and brand exposure – and for bettors, well, it's just gotten even better.
Here at VIP Casino, there's a special ongoing for Monday Night Football. Between now and January 3rd, you get a free MNF bet when you deposit $20. (Terms & Conditions Apply)
And with that in mind, we'll take you through three stellar matchups between now and season's end, where you can maximise profit.
Want to know more about Monday Night Football Betting? Here's an article where we explain all types of NFL bets available on VIPCasino.
Monday Night Football #1
Los Angeles Rams @ San Francisco 49ers – 15th November 2021
Right now, I'd make the Rams slight favourites for the Super Bowl.
It's no longer a defensive juggernaut being dragged back by subpar Jared Goff quarterbacking. It's an offensive blueprint that's so far unmatched – and a defense that can take more risks than usual because of it.
But formlines tend to go out the window when it comes to divisional matchups and that's what we love about them.
The issue here is familiarity isn't even. The Rams' offense might look the same in its bunch concepts, but with Stafford under center, not only do they have more arm to work with, they've also got a signal-caller that can make his progressions far more quickly.
The Niners will end up playing catchup here. The game isn't far enough away that there'll be absolute certainty over their own quarterback situation, and if you're not committed or comfortable by that stage, throwing the ball as a necessity to claw back points should make this a blowout.
While Robert Saleh has moved onto New York, a lot of their defensive principles have remained. And that means even less work for Sean McVay to do in preparation.
This game should feature a high-scoring Rams performance, led by the third and fourth quarter touches of Darrell Henderson. Keep that in mind early in the week when the lines are yet to move due to sharps.
The Niners' entire plan on the offensive side of the ball revolves around running outside zone. These concepts don't materialize when they're chasing points, because defenses will be happy to sit off the ball and afford underneath throws.
They won't need to stack the box and force missed assignments from poor run reads. The line in favour of LA likely won't be big enough by the time this comes around.
Monday Night Football #2
New England Patriots @ Buffalo Bills – 6th December 2021
Josh Allen has been lights out. Again.
This is not news, nor is it entirely unexpected. But the Bills have lost two games that really they shouldn't have.
Tennessee ran the legs out from under them with Derrick Henry and it changed the shrewd nature of Brian Daboll's playcalling.
Instead of being coy and sophisticated in their design, they resorted to dropping back and depending on his arm to produce. That only works for the greatest players of all-time. It just so happens that three of them – Rodgers, Brady and Mahomes – are playing now, so it's seen as a standard gameplan and potentially-successful approach.
It's not, I assure you.
The one team that can gameplan like this and cause severe head scratches are New England. Particularly as this is their first meeting of the year. In the second meeting, I generally expect the better team to make adjustments and regain the advantage, but New England will start as five or six-point dogs here, and that line is very generous.
Damien Harris might be the most efficient tailback in the NFL now, and that IQ means he'll see the Bills run-stop fits and cut accordingly.
Allen is very talented, but their best work comes from advantageous personnel groupings and in-game situations. Very rarely when they go four or five wide are they anything other than predictable like the rest of the league.
Football is situational and this will be a prime example of it. It's not common for this coaching unit to be rolled over by any one player time and time again, and knowing that Buffalo are the division standard setters, you can be sure Bill has a plan for the Bills that he was concocting all off-season.
Monday Night Football #3
Minnesota Vikings @ Chicago Bears – 20th December 2021
There is a very real possibility at time of writing that this game could be far bigger than anyone had anticipated.
The reason for that is largely down to the fact that nobody in the NFC looks functional when it comes to the Wildcard picture.
But both Minnesota and Chicago have underachieved massively so far, and their situations are likely to improve rather than get worse.
In this particular matchup, presuming Justin Fields is schemed for accordingly, it makes the Vikes' job so much tougher – especially in Soldier Field.
But the one way to combat that is by going deep early and often, to ensure that Fields can't control clock and be methodical.
Chicago are very keen on ignoring Allen Robison, and with Darnell Mooney emerging as the WR1, a lot of their best stuff will happen underneath.
For that reason, I'd anticipate most of the points to come in the first half rather than the second. It's an angle that's derived from blueprints and understanding how they alter their coverages to prevent.
And Mike Zimmer is a master of this, particularly as his staff's offensive playcalling has been hit and miss now for years.
A clever script here will see deep shots early and often, and a major lull in the third and fourth quarters. It takes the partisan crowd out of it, makes a rookie uncomfortable and means he doesn't have to send a subpar pass rush to try and win the game for them.
Everyone's a winner. Well, except Chicago, Matt Nagy and Justin Fields. But you get my point.
Follow @VIPCasino_CA on Twitter to stay up to date with latest tips, news and offers from Canada's Best Online Casino!